You may be able to vote in Tay Valley's Election!
Municipal elections will be held in communities like Tay Valley Township across Ontario very soon. If you own, rent or reside at property here on Black Lake, even if you primarily live elsewhere and are only here seasonally, you have met a basic requirement for being eligible to vote in Tay Valley. According to their website, "you can vote in Tay Valley's municipal election if you are:
a Canadian Citizen; and
at least 18 years old; and
a resident in Tay Valley Township; or
a non-resident of Tay Valley Township but you or your spouse own or rent property in the Township; and
are not prohibited from voting under any law."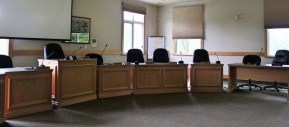 Who are we electing?
This election will select individuals to the township council positions of Reeve, Deputy Reeve, and one of six Councillor positions for a term of 4 years commencing 1 December 2018. Tay Valley is divided into three wards (Bathurst, Burgess and Sherbrooke – representing townships that existed prior to amalgamation into Tay Valley), and each ward is represented by two Councillors. Black Lake is located in the Burgess Ward (formerly North Burgess Township).
The candidates for Reeve are (in alphabetical order): Brian Campbell, Susan Freeman, and Keith Kerr. Candidates for Deputy Reeve are: Barrie Crampton and Judy Farrell. The candidates for the two Councillor positions for the Burgess Ward are: Doug Barr, Greg Hallam, Beverly Phillips and Mick Wicklum. Voters are permitted to vote only for Councillors in the ward they own or rent property or reside in.
Additionally, owners and residents of residential property may also elect school board trustees. Most eligible voters will be electing trustees to the English language public school board, but depending on voter qualifications, some will cast ballots for the French language public school board (French language rights holders only), or for the English or French language separate school board (people of the Catholic faith only). Your Tay Valley property tax bill's school tax portion will indicate which board your school tax portion is designated for and will align with the school board for which you will be able to vote.
How do I participate in the election?
If you wish to vote in this election, you must be on the voters' list. Everyone who is on the voters' list should receive a Voter Information Letter by early October. This letter will contain a Personal Identification Number (PIN) to be used when casting your ballot. Voting will only be conducted via telephone or Internet-connected device during the period of 15-22 October, 24 hours a day for 8 days. No physical polling location will be open to cast a ballot in person, and there will be no paper ballot option.   Of course, this makes it easier for seasonal residents to vote in Tay Valley's election, as you do not have to be physically present.
If you are unsure if you are on the voters' list or do not receive your Voter Information Letter, you can stop by the Municipal office at 217 Harper Road during normal business hours (Monday through Friday, 8:30am to 4:30pm) and check at the voter information desk in the lobby showing proof of identity and qualifying address. If you are not on the voters' list, you may register at that time. The voter information desk will be open extended hours on Saturday, October 20th from 9:00am to noon and again on Tuesday, October 22nd until 8:00pm when polls close.
How can I find out more about the election process?
For additional information, please visit the Tay Valley Township website's Election page at: http://www.tayvalleytwp.ca/en/municipal-government/elections.asp, and their Information for Voters page at: http://www.tayvalleytwp.ca/en/municipal-government/information-for-voters.asp. The latter link has video demonstrations of voting by telephone or by Internet as well as other useful details about this process.
All-Candidates Meeting will be held Wednesday, September 26th.
A public All-Candidates meeting is scheduled for 7pm on Wednesday, September 26th at the Glen Tay Public School, 115 Harper Road, presented by CFUW Perth and District Chapter and sponsored by Lake 88. This will be a good opportunity for those who are still at the lake or live close by to decide for whom you will support and vote. This meeting will be moderated by Brian Perkin and will conclude at 9pm, followed by an informal opportunity to meet all the candidates. For more information about this meeting, please contact Sandra Shaw from CFUW at sandras@fifthelement.ca.